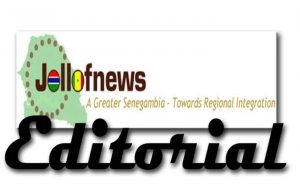 The Gambia's forests have been depleted but the country was one of the busiest when it came to timber re-export trade.
Container loads of timber were being shipped from Banjul seaport to offshore markets with less or no hassle at all.
The timber re-export trade was a lucrative venture that President's cronies could not resist.
They jumped on the opportunity and there was even a recent newspaper article, though dismissed by government as baseless, that Mr. Barrow himself was profiting from the multi-million dollar industry.
As Banjul faltered in showing ability to regulate the timber re-export trade, there was anger and impatience at the other side of the border that the expectation from Banjul was not being delivered and that Mr. Barrow must roll up his sleeves and quickly transform his commitments to actions.
A fortnight ago, the VP had an in-camera engagement with stakeholders in the timber re-export trade to inform them of the urgency for a policy shift.
Few days after that environment minister Rohey Jones Manjang told a meeting with staff under her office that government was battle-ready to slam the brakes on illegal timber trade. And, government indeed made good on its pronouncement as it announced last week a ban on illegal timber trade. Was this not a knee-jerk reaction, especially coming at a time when the Gambian leader has himself come under the radar of the media vis-a-vis cross border illegal timber trade?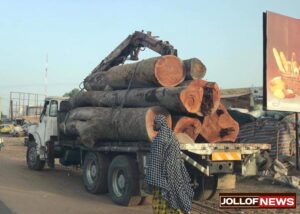 President Barrow meantime could not, either through commission or omission, be exculpated of blame for whatever might have gone awry in the timber reexport business. Commission in the sense that his name has now been dragged in the mud and, unless his government furnishes us with more reasons why we should doubt the journalists, we prefer to tread this commission path with care. Omission itself could constitute crime in issues of this nature. There's no denying that President Barrow himself knew some of the people he hobnobbed with were engaged in the sector.
He knew them and JollofNews knew them! We'll be compelled to prematurely publish some of the names if government denies our assertion.
Aside lucrative government contracts, Mr. Barrow has also overlooked the involvement of some of his loyalists in timber reexport trade. With the knowledge that timber re-export business was injurious to the health of the Cassamance forests and overwhelmingly significant to the sustenance of the Cassamance rebellion economy, Mr. Barrow's seeming inaction was inexcusable. Forget about the so-called raids on timber businesses!
Therefore, Barrow cannot be absolved of any blame here going by the wisdom-laden African proverb by a celebrated African author: A she-goat must not suffer the pains of protrusion on the rope while there is an elder in the house. How did we reach here is the question.
The illegal timber trade could have been consigned to history if regulations were robustly enforced and commitments translated to actions!