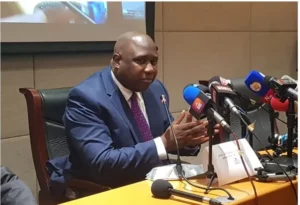 The justice minister was this morning pontificating about what, he termed, as sensitive state secrets.
Justice minister Dawda Jallow was today a guest on Coffee Time With Peter Gomez and disappointingly, he used the platform to issue veiled threats to whistle blowers in the government.
But the justice minister should be ashamed of himself in showing his unhappiness about the leakage of correspondences, regarding the allocation of D1m to the health minister as well as the purported audit of NAWEC.
Governance must be a serious business because it concerns the lives of the governed.
Any serious government will instead cringe at the allocation of a whopping D1m to the health minister for a short tour like the one in question.
This level of fiscal indiscipline is what's unacceptable but not the act of exposing it.
Digging deep into public coffers for such a wasteful spending is charitably a financial impudence.
So, the public needs to know!
Meanwhile, if government was sincere about its move to audit NAWEC, why keep that close to the chest?
Is there anything sinister there that the larger public must not know?
Therefore, we ask: What constitutes a sensitive state secret?