So, Alagie Barrow can also metamorphose to a sycophant?
Until this morning, we've held Alagie Barrow in high esteem.
However, unbeknownst to us, this dude is another attention and favour seeker.
Mr. Barrow, why preach what you don't believe in?
You are a cumbersome character, you know!
You are unpredictable!
You are a go-getter!
Certainly,you have more than once demonstrated that you can move heaven and earth just to get to your destination in life.
Mr. Barrow, was it not you who conspired with some Gambians to attack the State House in 2014 just to achieve some of your personal goals in life?
But the coward you are, you chickened out at the height of the operations and thereby exposing your comrades to danger and disastrous failure.
You exposed some to death and others to humiliation by deserting your position because of cowardice.
We are mentioning this here to show that you are a coward, an opportunist and a traitor.
At the time many thought you were on the right side of the truth, you once again exhibited that opportunists don't have clear direction, focus, vision and mission in life.
Using the West Coast Radio to spew garbage against hardworking online journalists is yet another indication of how far you can go to get your way through either coercively or subtly.
To contextualize it,Alagie Barrow unashamedly went to town to describe some of the critical online platforms as tools of vengeance, attention seeking and casting aspersions.
In his weekly essay on West Coast Radio Coffee Time With Peter Gomez (www.wcr.gm), Mr. Barrow loosened up on some online media platforms like a canon, describing them as vehicles for spewing hate and vengeance and maligning honest officials.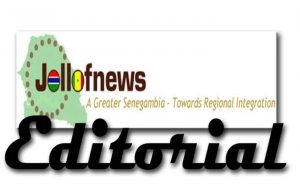 This attack is grossly unfair, unwarranted, uncalled for and uncouth.
At a time when media experts are lamenting the moribund condition of the Gambian media, Alagie has the audacity to castigate the last bastion of the Gambian media.
You see Mr. Barrow, it's not all about clicks!
Some of us have made the deliberate decision to assume personal agency in advancing our country through information sharing.
We know you have an expensive university degree under your belt!
We don't have any degree in journalism but being in the same profession since leaving school some two decades ago, we learnt some tricks along the way.
We heard your definition of journalism but we were also mentored that journalism is also about making the comfortable officials uncomfortable.
What we mean by this is that we cannot allow our officials lead carefree lives while we entrust them with our lives and resources.
We, therefore,assume the collective agency to keep them in check.
To say some online media platforms are used to pull some government officials down by maligning them speaks to your parochial view of the entire Gambian media land and sea scapes.
As journalists, we do not only assume individual agency for our work but we also have house rules. We also have industry code of conduct and ethics.
Above all, there are laws in this country that deal with libel, slander, maligning, false publication and all the don'ts of journalism.
Citizens have the right to take recourse of the laws if they feel their rights are being violated by journalists.
So, you should be able to see the red lines; the boundaries if you like.
Stop haranguing and hectoring hardworking journalists!
We have a duty to inform and we don't need your lopsided and unfair assessment of our work.
Attention or no attention beamed on us, we will endeavour to work harder in executing our roles and responsibilities as Honourable Members Of The Fourth Estate Of The Realm.
Stay mute if you don't have anything meaningful to say, Mr. Barrow.