When the Covid pandemic destroyed livelihoods and caused food prices to balloon in The Gambia, the Good People of Japan sent in tons of rice to the impoverished West African nation to stave off hunger in many households.
However, the Good People of Japan should be disappointed that the Gambia government had another plan for the rice consignment.
Instead of distributing the rice to the needy, government said it was going to sell it and invest the proceeds in crucial sectors.
Since last year, the Gambia's signatory to the arrangement Dr. Momodou Tangara could not still tell the whereabouts of the Japanese rice aid.
And, as if that was not enough, the Gambia government is still keeping the rice given to the citizens by China.
Forty tons of rice was what China gave us.
The Gambia government is increasingly proving many of its critics right.
When China brought the consignment, many Barrow critics said its distribution would be controversial.
Some of the reasons advanced were that the the Chinese donation came just few steps away from the April local government elections and therefore, could be used to entice voters to the ruling party.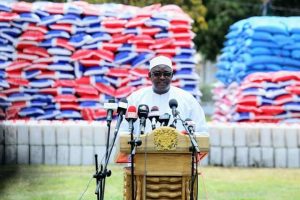 Others said if the World Bank food aid distribution that former Vice President Dr. Isatou Touray spearheaded during the pandemic is anything to go by, not much should be expected from the rice gift.
Whatever the case may be, all what we know is that both rice consignments have yet to reach the targets.